Bonneville Excursion 9/9/07 - so long mountain, hello lake
We enjoyed the heck out of our relative luxury last night at the Canyon Mountain Lodge. Funks indulged in the provided bathrobes and some instant cider.
Mr. Funke, man of leisure.
This morning when I got up Andrew said, "You really should look out on the veranda at our view." And above is the sight that greeted me - pretty great way to start the day.
We got on the road pretty quickly, even considering the fact that the breaker blew late at night on the wall outlets in our room and we didn't realize it. Good thing the clock had battery backup!
Today was mostly "ride and get there" day. We needed to get from Boulder to Salt Lake City, and it was going to be a lot of highway riding. We did have some scenic views for a couple of hours as we wound north on some lesser roads. We stopped for lunch in a little town called Loa. Not much going on in Loa, especially on a Sunday. It looked like a fairly big town on the map, but it was just a little town spread out over a lot of acreage.
Our little local diner was located right next to a car collection of sorts.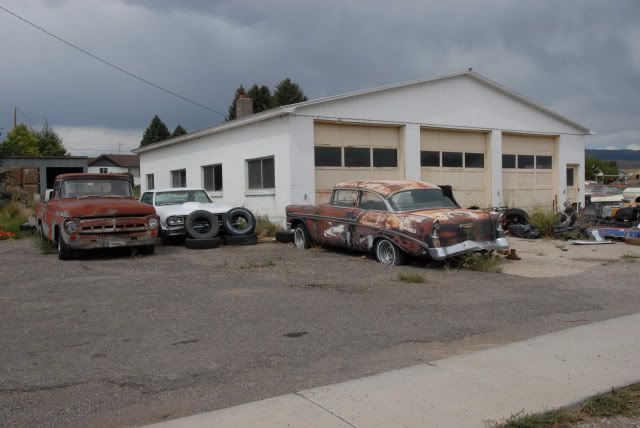 I was seated so that I could see these cars while we ate. I said to Andrew, "You know how they say it's therapeutic to watch fish? Well, rusting cars do that to me." I also wished I could take that '56 Chevy home with me. It looked like it was waiting for a home. Other cars on the lot were a '65 Chevelle with a teardrop scooped hood, a late 60s Impala, and a '67 or '8 Camaro that had taken a beating on both ends.
We hit the road again, deciding we'd stop for gas in Aurora, UT. Nope! Nothing is in Aurora! While we were discussing our next stop I hopped off the bike and snapped a quick pic with some nice mountains in the background. Not much of a photo, but it had been a while since I'd done a roadside shot.
We finally gassed up in Scipio, Utah, which doesn't have much else going for it except a Texaco and a Sinclair. We chose the home of the big green dinosaur to fill up, and after that it was all highway to Salt Lake City. It wasn't long after we got on interstate 15 that the wind started, and stayed. For the next two hours it was simply an exercise of will and determination to hold on to the bike and keep it in the lane. There were mountains to see, but I was concentrating to staying on the bike and keeping from being blown from one side to the other.
When we finally got to a gas stop just south of Salt Lake City, Andrew's first words to me were "That was terrible," and then, "That was horrible." I agreed. I've been in worse weather, but two hours of it was just wearing. We were both tired of holding on.
A stroke of great luck greeted us at the gas station when a man walked up completely unbidden and asked if he could help us find our truck rental location. He was able to tell us how to get there and that there were hotels nearby. That's what we needed! We were off.
About thirty minutes later we pulled up at a Ramada Inn and after doing some mapping in the lobby on my laptop, I was able to conclude that we'd pulled up only an 11 minute ride from the rental place. Score! "We'd like a room, please."
In the parking lot was the sweetest site I'd seen all day:
Proof positive that we're just about on top of our ultimate destination for the trip. This machine is all decked out in its racing numbers and everything. Nice to see after a long day in the saddle.
Tomorrow we get the rental, head to Wendover, and prep of inspection and the coming week's event. ROCK! It's about to happen!
Labels: Bonneville motorcycle trip