Bonneville Excursion 9/5/07 - Meteor Crater
Today was a relatively lazy day as far as mileage is concerned. In fact, I forgot to even look at my odometer when I got off the bike tonight. I think we did maybe 100 miles, but maybe not even that much!
When we got up it was a bit slow going. We'd decided to see the crater, and we weren't that far away. In addition, I'd decided to get my damaged front tire replaced in Flagstaff, so we reasoned that we probably wouldn't be getting very far with that factored in.
I called around Flagstaff before we left the hotel and found one place that had a tire, but it was some generic brand. Still, that was all I could get, so there you go. It was a new tire in good shape, which beats getting a flat in Two Guns, AZ. Where's Two Guns? More on that later.
We headed out on I-40, and got past Winslow. I had thought at first to stop there for both food and gas, but we hadn't been on the road long, so I kept Andrew and I going. Not long after we'd said goodbye to Winslow, I went to pass a semi, and halfway through the maneuver the BMW's motor started sputtering. Huh? Why was I out of gas and Andrew wasn't? He always runs out before me!
I flipped on the reserve, which gave me maybe 20 miles of travel I was guessing. Only one real problem, there wasn't much between me and the meteor crater. I stopped at the exit on mile 245, but there was nothing there. I decided we'd go ahead rather than turn back to Winslow. Besides, I knew on the map that Meteor City was only 8 miles down the road.
When we got to Meteor City I didn't find a gas station, souvenir shops, or even a convenience store. Instead, I got this:
Yeah, seven people. Is it legally a "city" with only seven people??? Moving on...
We did make it to the meteor crater without running out of gas, but I was a little concerned. Nice to know I've got more than ten miles left in a tank at reserve. I probably do have twenty, but I'm not going to test that theory. I had run out before Andrew, because he had topped off at the Painted Desert the day before for concern of running out during the tour. All they had at that stop was 87 octane, so I passed, knowing I had well enough left in the tank to finish that day's trip. Forgetting that the next day, I'd set off with a mostly empty tank.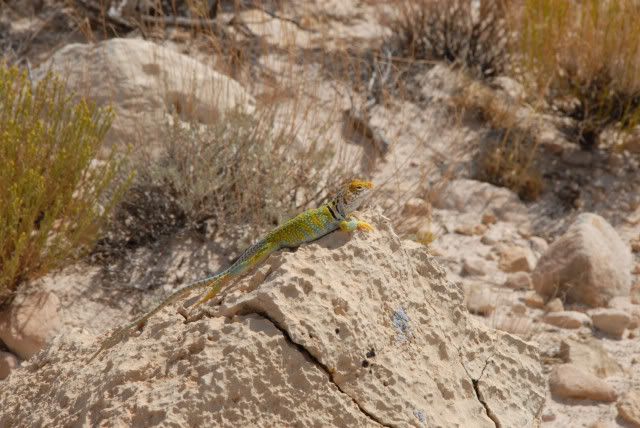 After we'd filled up we went up to the crater where I saw the first up close living thing I'd seen in the desert, a collared lizard.
On our tour around the rim, our guide Eduardo showed us the ruins of an old dwelling that the original claimant to the land had built when he was mining for what he though was a tremendous wealth of iron nickel under the meteor's impact. He never found it, but the land was eventually developed into the protected site that it is now, providing for much exploration and information regarding activities and affects from space.
Here's the real deal, Andrew and I at the rim of Meteor Crater. It's 60 stories deep and over four thousand feet across. You could have 20 professional football games going on at the same time in the base. It's big!
After the meteor crater I made another call to Flagstaff, and then we took off to get the tire replaced. On the way there I saw the sign for Two Guns, AZ. Andrew had noted several times what a startling exit this proved to be the first time he'd seen experienced it. I mean, Two Guns sounds pretty important, right?
So, I pulled off the exit, and then Andrew passed me and we headed over the overpass to our left (there was nothing to the right), and when we got over the pass we saw this:
That's it. That's all of Two Guns. One abandoned gas station. There were a couple of painted up signs and whatnot and that was it. I mean, there wasn't even a road to go to another place should you decided you wanted to go to that other place. Two Guns is an exit sign on the road that leads to a dead end of a gas station. It was bizarre.
After our tour of the bustling town of Two Guns we headed on to Flagstaff. We got the cycle shop without trouble, but once they got the tire off they found that I didn't get anything caught between the fender brace and the tire. It was simply that the tire had expanded and rubbed the brace itself, so putting another tire on was only going to create the same problem. I had two possible solutions. One, hammer on the braces to "fix" them, or get another tire. As I was all ready to start pounding on my bike, the service guy says, "Well, we called the shop down the road, and they have a tire that's one size smaller, but they close in fifteen minutes. If you want to wait, they can put one on tomorrow at 9am."
Yes! I agreed to that one, as we were going to stay the night anyway. They called the other shop, put a hold on my tire, and with effusive thanks from me, Andrew and I were on our way to a hotel and some food.
Tomorrow...well, other than the tire, ya got me! I think we're going to Sedona perhaps. It'll be a surprise for all of us.
Labels: Bonneville motorcycle trip