Bonneville Excursion 9/7/07 - Clean cut for the Canyon
When Andrew and I were out the night before taking pictures of signs we saw a barber shop. I said, "To bad they aren't open, or I'd get my hair cut." Andrew offered that he'd been thinking the same thing.
The next day that thought was still on my mind, so we headed over there and found proprieter Tony Torrez at work on the waiter from our dinner at Rod's Steakhouse the night before. Small town.
Tony's was so traditional and such the opposite of just about any place that you'll walk into today, that I had to get my camera. I ran back to the hotel, and returned just in time to take my seat. Once I was done, Andrew took the chair, and I grabbed the Nikon.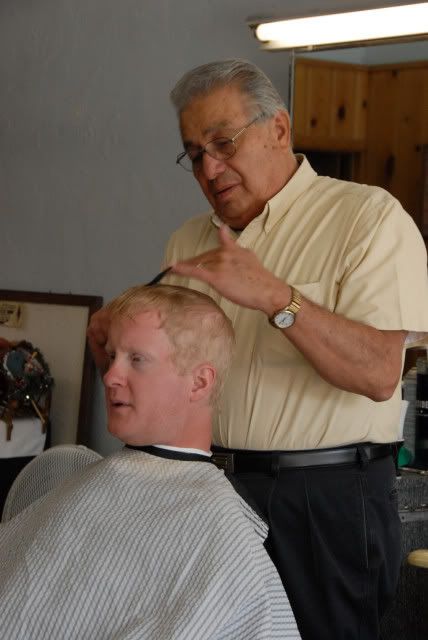 Tony working his magic on Funks.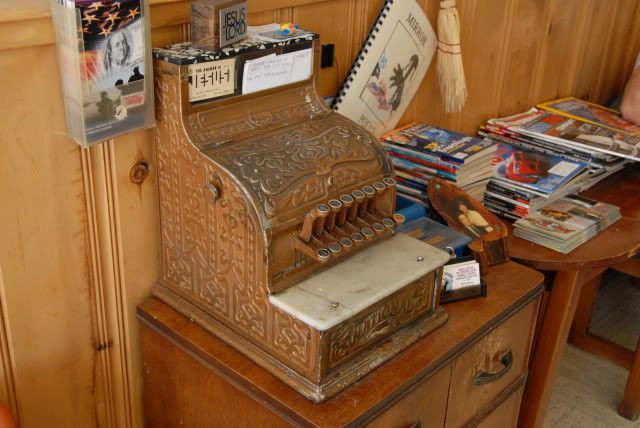 Tony's uber-fancy financial center. The drawer on the register was made of wood it was so old!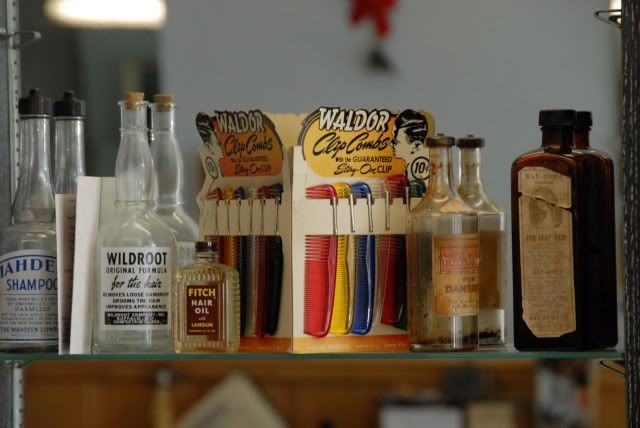 Mr. Torrez stocks only the finest supplies for his customers.
Me goofing off with the big mirrors at the shop.
Once we got done there we headed over to the Route 66 Diner, which was a bit touristy, but fun all the same. The food was great, but service was a little on the slow side. Sometimes you'll have that.
After we finally got our food taken care of it was past noon, unfortunately. We hopped on the bikes, got them gassed up, and then headed north up 64 to the Grand Canyon. It was hardly an hour and we were there. Andrew had been there before, but this was my first time, and I was blown away by not only the size and beauty of the canyon, but the number of foreign visitors present. There were French, Germans, Swedes, and a number of other languages I had no hope of identifying. I told Andrew, "Well, I finally found something other than Disneyland that foreigners will travel to America to see." Mickey Mouse is awesome and all, but I'm glad our soil is notable for something more than the Mouse.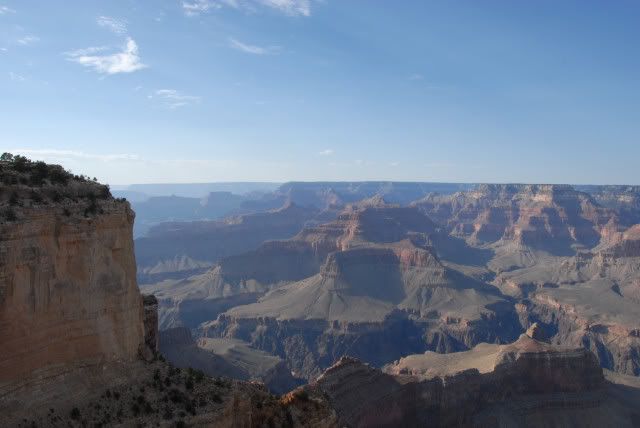 Here's a small fraction of what all the buzz is about. I took nearly one hundred photos in a vain attempt to capture just exactly how impressive this site is. It's just not possible, but I couldn't help buy try.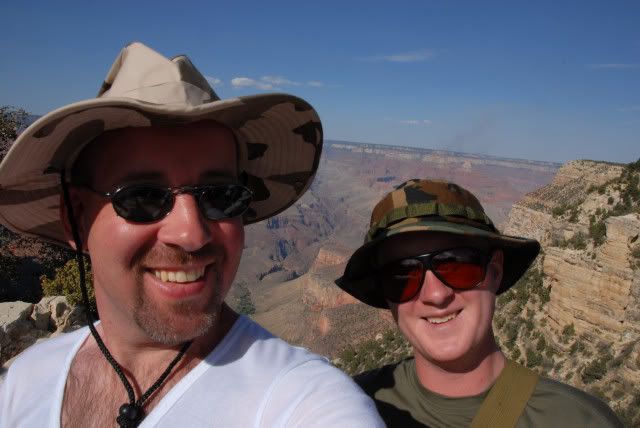 Being cheesy in front of a really big hole in the earth.
This rock outcropping caught my eye mainly because when I first glanced at it I actually thought it was a man-made structure. The rock formations are incredible.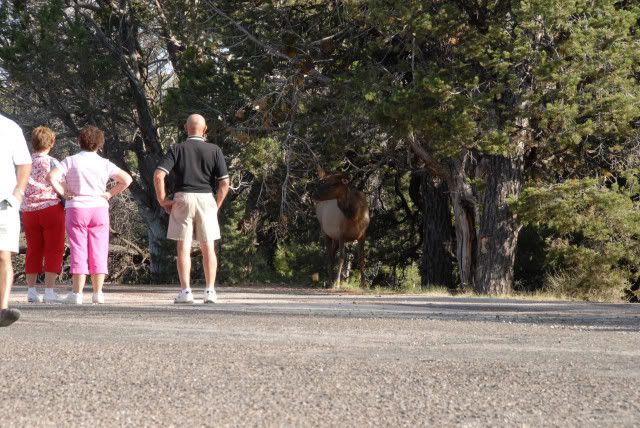 We were told by the bus tour guides and by multiple signs to "Stay away from wildlife." At one stop on the tour an elk wandered past. This group of people believe that "away" is apparently less than six feet. I was totally waiting for them to get trampled, "...and then you'd take pictures of it," said Andrew, which I had to agree was true. Dumb people doing dumb things. I can't resist.
After we left the canyon we were headed east on 64 and passing numerous sightseeing points that were clearly marked from the roadside. We were, of course, behind schedule, and I kept catching these fantastic glimpses as we went by the lookout spots. "We need to get to a hotel," I thought. "We already have enough pictures," I thought. Then, just after the sun had gone down we went by the fourth or fifth spot, and I looked over and just couldn't keep going without one more stop. I pulled in, Funks wheeled behind me, and we both got out our gear and got one last set of images of the canyon as the sun faded past the horizon. The above shot was one from that set. I think it was totally worth the effort.
Once we'd done our last bit of shooting we headed on towards Cameron, AZ. By the time we got there it was dark, and we needed fuel. We gassed up at a pretty skeevy station, and there was no sign of the town at the intersection as was indicated on the map. We headed north, following the indicators on a billboard that we could see down the road. However, down the road was only one lodge, which also seemed to function as the main source of entertainment for the entire town. As I was in the lead, I kept going to try and find something a little more quite and settled looking. That didn't work, because moments later we found ourselves well clear of the city limits. Apparently that spot was the only lodging in town.
I pulled over and consulted with Andrew. We agreed to continue north to The Gap, AZ. The Gap turned out to consist of one trading post and apparently nothing else. We didn't even slow down. The next time we stopped was probably 45 minutes later at the intersection of 89 and Alt 89. Funks wanted to go due north to Page, which was a large town guaranteed to have some hotels, but it was out of our way. I pushed for Marble Canyon city, citing the hotels there that I'd read about online earlier that day. Funks agreed, and we kept going. It was about 9pm by now, and out there in the middle of the desert we had nothing but darkness and road. I started to worry that we'd get into this little town and find all the places full up.
Finally we reached Marble Canyon, with the appropriately named Marble Canyon Lodge, and were pleased to find that they had a vacancy. Unfortunately, everywhere to eat was closed, but the desk woman was extremely helpful and called the gas station next door so that they'd stay open and we could buy yet another sumptuous meal of crackers, summer sausage, mixed dried fruit, and some cheese and crackers. Twenty-one bucks for that and some soda. Ow. Oh well, we were starving.
I'm now staying at a pretty simple place - no shampoo, no clock, no cell service, no remote for the TV, but we have beds...and wireless internet. Good enough for me!
Tomorrow we head north through Marble Canyon and up into Utah where we should finally get to travel the famed Scenic Route 12. It's reputed to be one of the most beautiful roads in the U.S.
Labels: Bonneville motorcycle trip