The sharpest suit never worn to prom
I got a bunch of gear and gack in this week for the trip. Here's what 1100 bucks worth of bike stuff looks like:
Doesn't take up much space, does it? See that clearish plastic box? Friggin' video camera - one of those kickass little lipstick-style dudes you can mount on your bike. Yeah, I talked me into it. I'm selling crap to pay for all this when I get home, and I'm totally fine with that.
I got pants for riding. Overpants is what they're called. Some have been curious to see what kind of pants cost 300 dollars. Here they are:
Kinda bland, eh? The have armor in the knees, you can attach a velcro map pocket to one leg, they're weather resistant, durable, last for thousands and thousands of miles, but most importantly they zip fully up the sides, enabling you to free yourself from them in a short period of time, "like Chippendale pants," as one of my erudite female friends was quick to point out.
That's all small potatoes though, really, because IT finally arrived, our biggest single equipment expense outside of our machines. I came home Wednesday night and there was a big box sitting on the front porch, and the sender's name was Syed. THE SUIT!!!!
I called Funks and left a message. Apparently I mostly said, "It's here," along with some other gleeful confused noises.
When Andrew arrived some two hours later we immediately set to work on the box.
Here's Funks loosing it from its cardboard restraints. His words were, "It's like the dad from A Christmas Story: 'It's indescribably beautiful!'"
Below you can behold the joy upon his merry face. He was almost like a proud father. Check out the color we picked! ORANGE!!! Honestly, it looks outstanding. The black and white really stand out from this thing. We look like we're serious about this racing business.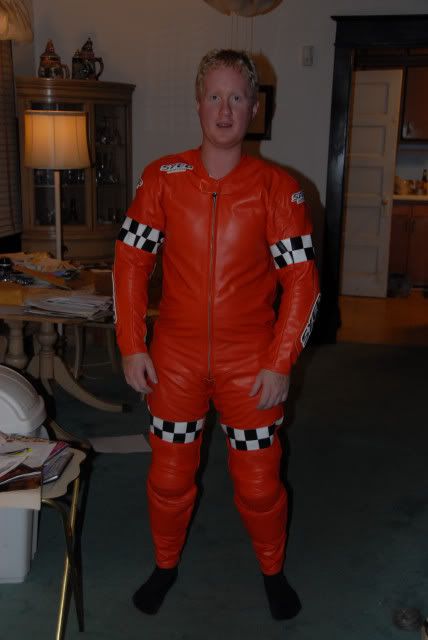 We were hootin' and hollerin' like kids at Christmas. Honestly, it was a bit of a gamble going with orange. I had an idea in my head that it would look great, and certainly it was nice for me, since the BMW is orange itself, but Andrew was the one who finally laid down the decision at Steak & Shake those many months ago and called out the sunset hue off the page of samples. I was happy to see that he was as pleased as I. In addition, the fit on this thing is fantastic. They really did a nice job on it. In addition to the snazzy looks and great fit, it's got armor in the elbows, shoulders, back, and knees. I was also amused to see that it has a small zippered pocket sewn into the inside. For smokes, I suppose, when you're ready to light up a Marlboro after you've just done some rather manly record-setting.
Honestly, this nails it. Could it BE any cooler?!!!!
Tomorrow is departure day. Less than 24 hours to go. I hope to be blogging at least occasionally along the way. Check in for updates. As you can see, this is gonna be incredible.
See you on the salt, kids.
Labels: Bonneville motorcycle trip