Bonneville Excursion 9/1/07 - to Missouri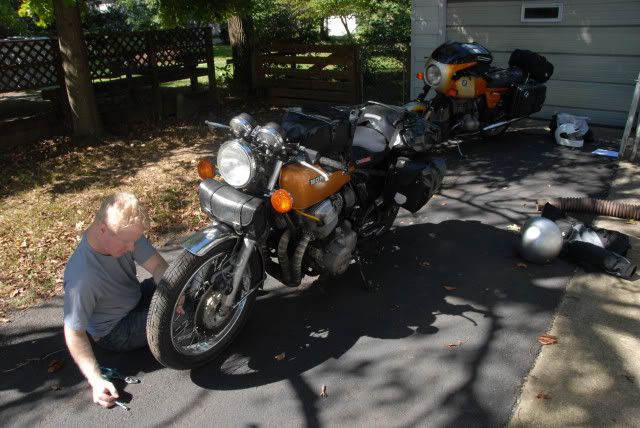 Getting ready to go Saturday morning.
Let's roll!
This is going to be short, because I'm tired and need to get some good sleep.
Funks and I didn't get on the road until 1pm! Yeah, best laid plans, mice, all that stuff. The great news is that the rest of the day was completely uneventful in any sort of negative way. When we went to the Maxton Mile back in June it was raining the first day, we left late, and we ran into a traffic jam that put us another four hours behind schedule.
Today...we rode. That's it. We got on the bikes, stopped in Terre Haute for some food and gas, stopped again in Vandalia, IL, and Sullivan, MO for gas two other times.
Vandalia, IN stop for gas.
Checking the map in Sullivan, MO.
The rest was all sun and easy miles. We put 392 on the bikes today.
Here's the diner we ate at near our Red Roof Inn. Couldn't pass up the opportunity to catch some neon at night.
Oh, Andrew did come to the unhappy realization that the tank sealer he put in his gas tank two years ago is starting to peel off in a big patch. Needless to say, we hope that it just kind of stops doing that and doesn't break into little pieces that will clog the fuel filter and make life less pleasant for the bike and us. However, worst case scenario we just find another tank somewhere and put it on the bike and keep going. It's a friggin' Honda, for Pete's sake, there've gotta be plenty of spare gas tanks laying around. Still, the peeling would best to just quit itself and not worry us any.
Tomorrow we should be well into Texas after passing through Oklahoma. How cool is that?!
Labels: Bonneville motorcycle trip