Bonneville Excursion 9/3/07 - to Grants, NM
I couldn't post last night because we had a crappy wireless connection in the hotel room. I'm sitting in the lobby with my laptop while Andrew changes his jets.
Here's a quick recap of the 3rd:
The morning we left the Cactus Inn I took a picture of my little scrubbed spot on my tire. Andrew keeps looking at it when we stop for gas. It's not doing anything. It's not on the tread. It's not especially deep. I'll get it replaced perhaps in Flagstaff.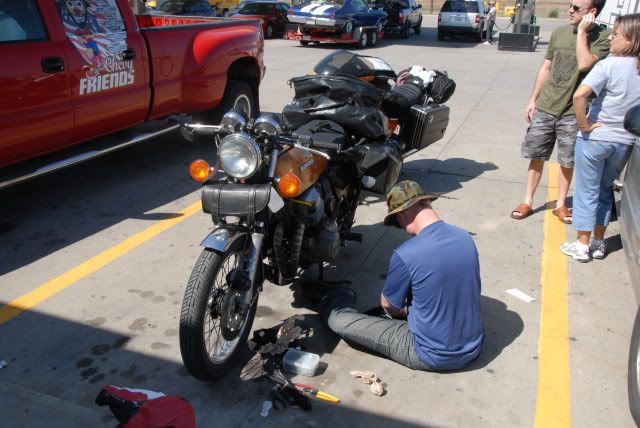 Andrew had a little trouble with how the Honda was running early in the morning and opted to change jets when we stopped for gas that morning. He's changing them right now again, as a matter of fact. You can just start calling him Jet if you like, or Quickchange.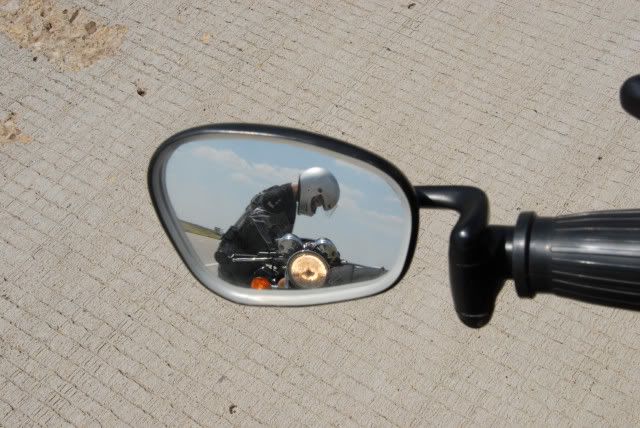 I stopped by the roadside for a quick shot of some wind machines after we had gassed up the bikes. I grabbed Andrew in the rear view as he adjusted his luggage.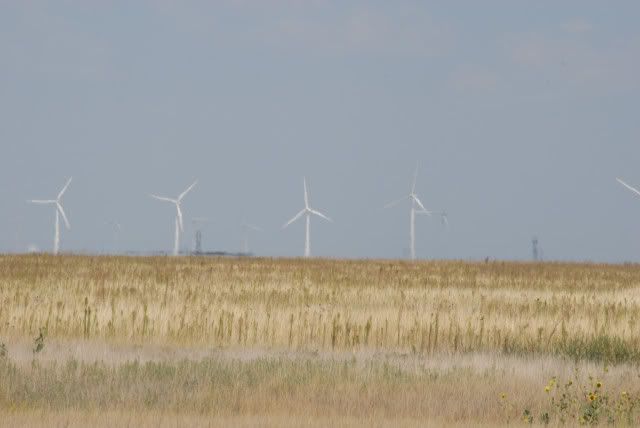 Texas wind machines. Looks pretty hot from all those waves, doesn't it? It wasn't really unpleasant to ride through.
Texas from behind the handlebars of an R90S.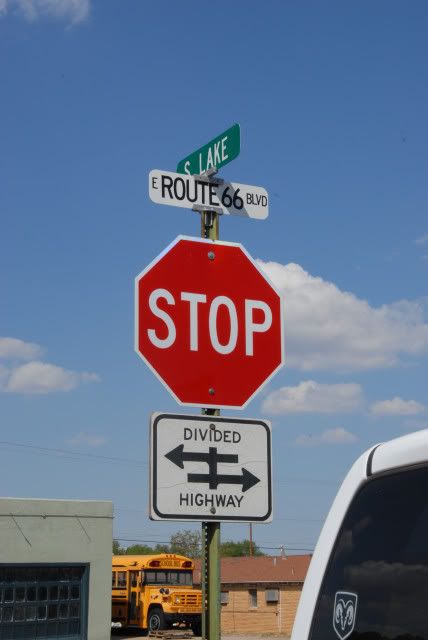 We stopped in Tucumcari, NM to eat and pulled off on a portion of old Route 66. Sweet!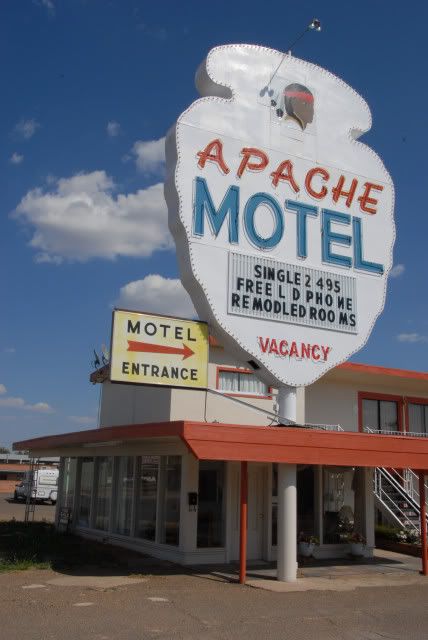 Apache Motel near where we ate. Love those old signs.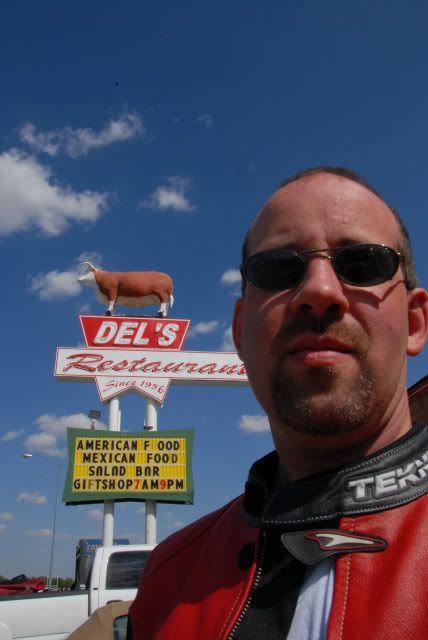 We ate at Del's, which I believe is a somewhat historic place. I think I saw it in a book that dad has. I'm really a happy individual in most cases. It was just hot and sunny and I'd been standing in it taking pictures for a while, so I'm looking a little bleh at this moment.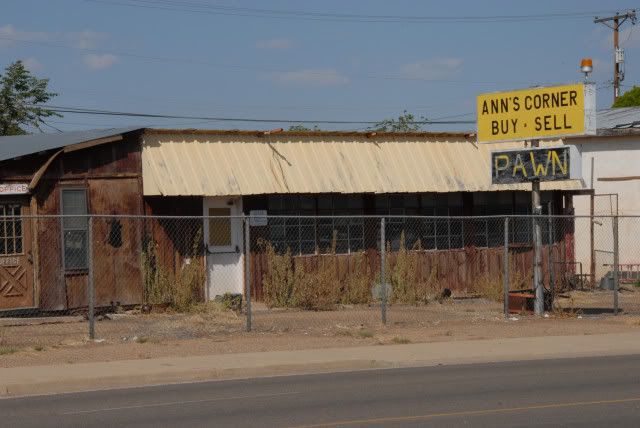 The glamour of 66 has faded. This was right across the street from Del's. For every nice place there are probably two more that are in this shape.
The Pony Soldier Motel sign looks very grand and inviting, ready for any travelers who might come across it on their way west...
Sadly, the Pony Soldier has not seen any visitors in what looks to be a very, very long time. There are plenty of these sorts of places along the road. Sort of majestic and sad at the same time. I told Andrew, "You drive onto this road, and suddenly you expect to see a '48 Ford thrumming down the road pulling a teardrop trailer with a family on vacation." It's a bit of a time warp, and then there's a sight like this that reminds you of what I-40 left in its wake.
We stopped for gas two more times after Tucumcari, once in a place called Milagro, which was incredibly desolate and depressing. However, Milagro actually stands for Most Important Location As Gas Runs Out. Funks only had a tenth of a gallon of gas left, and there was NOTHING else around had we not been able to stop here.
We stopped for the night in Grants, NM, covering 445 miles that day. Looking a little tired here.
The 4th should get us to Flagstaff. We'll be seeing the meteor crater, petrified forest, and more of the beautiful southwest along the way.
Labels: Bonneville motorcycle trip