Bonneville Excursion 9/2/07 - to Texas
We actually got up and out the door on time today. (I think the alarm clock in the hotel room was advanced about 20 minutes without my realizing it. Good!)
Once outside it was time to get the bikes loaded up.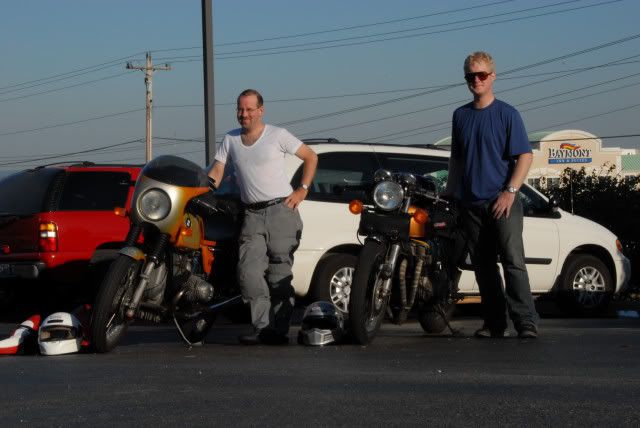 I'm not sure how long it takes, maybe 20 minutes to get the bikes unlocked, covers packed up, gear stowed and strapped down, etc. We eventually got it all taken care of and were ready to go only ten minutes after we wanted to be on the road. Record time!
Our first stop for the day was in Joplin, MO (really just a gas station off the highway near town, but still...). Andrew checked his tire pressure, because his gas mileage had plummeted from about 40mpg to 30mpg. Air was fine. Bike ran fine, just got crappy mileage. We guessed that it might be because we were going 80 or 85mph rather than yesterday's 70 or 75mph.
This abandoned diner was next door to the gas station in Joplin. It reminded me of what I'd read happened to lots of businesses after I-40 pulled all the traffic away Route 66.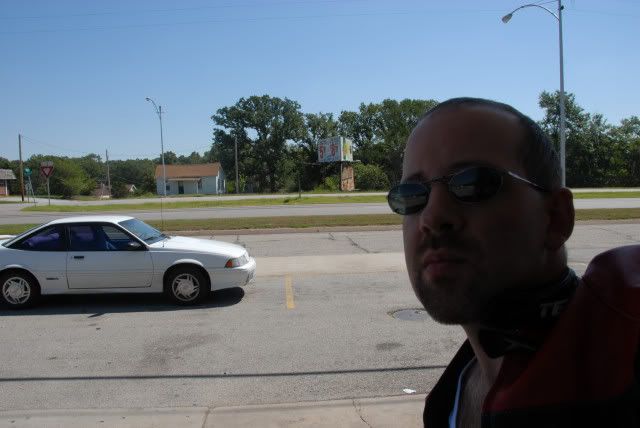 I took a second to snap a self-portrait. You can see from everything going on around me how exciting this rest stop was. Actually, the gas mileage thing was a bit of a concern.
We burned on through Oklahoma after leaving Joplin. It was pretty hot with temps in the low 90s. Worse than that, Funke lost even more mileage at the next stop in Tulsa. We weren't sure what was going on, but Andrew did say that I was pushing him pretty hard with the pace I was setting, and that he really had the grip twisted to keep up. We agreed that I'd keep it closer to the 70mph speed limit and see if that helped.
We stopped at friggin' McDonald's for lunch, because that was the only place along I44 that we could stop without getting off and paying another toll, besides the fact that none of the exits had a place to eat within view of the road. At lunch it looked like reaching Amarillo, TX by evening was going to be impossible, but Funks restated that this was a vacation, not a race, and that we should just take it easy and let our progress be what it was. Great advice. Travel after that was much more pleasant.
Andrew noticed when I pulled way from the lunch stop that there was a bunch of smoke coming from my bike for a short period of time, and then it went away. I never noticed a thing.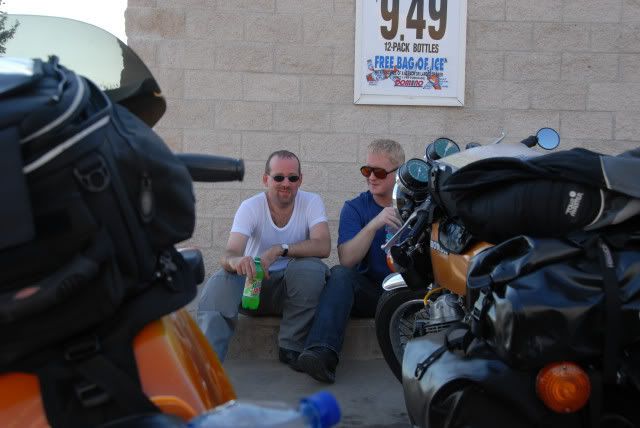 We stop later in Weatherton, OK, and are very happy to see that the plan to slow down has done exactly what we'd hoped and brought back Funke's gas mileage. It's a more pleasant ride not to be passing everyone all the time as well. We stop for a bit to rest and get a drink. I happen to see my front tire while sitting on the curb. There's a groove worn in it on the right-hand side where a rock or something got caught between the fender brace and the tire and wore it down a bit. It's not serious, but I may need to replace it before I race. I'm mildly annoyed. That's the second time in two years this has happened! Oh well. At least we're still fully mobile. Our progress is much better with fewer gas stops also. Nice. We roll on, feeling better with the progress and the evening's drop in temperature.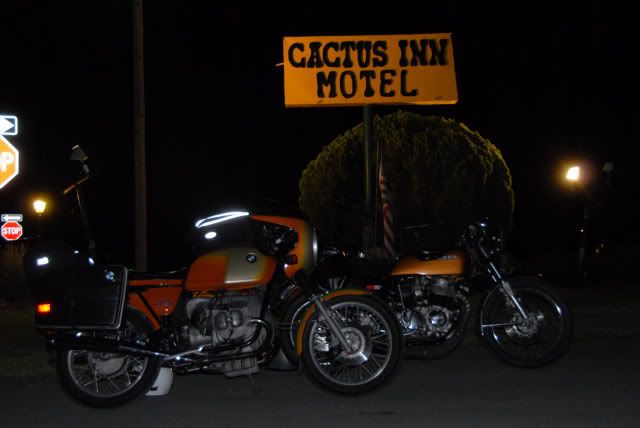 We didn't make Amarillo, but we came darn close! We rolled into Texas round 8pm. We kept going until we saw a sign for McClean, TX and the Cactus Inn. We pulled in, had a look, judged it decent, and here we stayed.
More fun with the Cactus Inn signage.
Here's the office building. Those runway lights are way cool. It's all quaint and Route 66-looking. Andrew said he saw a sign on the highway saying it was a historic building. It's obviously been around a while, but it is very clean, and even has a wireless hookup! We were too late to get food (past 9pm) at any place except a gas stop down the street. Pretty gross. Before unpacking the bikes we rolled down there and got lunch meat, Ritz crackers, Doritos, and mixed dried fruit and nuts. That was dinner. As Andrew said, "It's like we're in college!"
Once we got back we unloaded everything, wrapped the bikes up for the evening, and settled in to enjoy our sumptuous repast. We are both really looking forward to seeing the REAL southwest and land that doesn't look like Indiana. Tomorrow...Flagstaff?
Labels: Bonneville motorcycle trip