Bonneville Excursion 9/15/07 - Never a dull moment, unfortunately.
Today was supposed to be the relatively uneventful return of the Ryder truck to Salt Lake City, followed by the welcome return of hands to grips and tires to asphalt with eyes finally turned east once again after two weeks of westward adventures.
Well, that last part finally did come around, but it was much, much later in the day than either of us had planned, like 6:30pm instead of 1 or 2pm, but let's begin at the beginning, shall we?
After getting all our crap packed up and the last of the cleanup done on the rental, I went inside to ask one more time to talk to either the owner or the manager. There are far too many idiotic details to relate about this whole suit business at this point. Suffice to say that apparently neither the manager or owner have been near the building except for a couple of minutes on two different days. The guy at the desk was already two hours over his shift and apparently his replacement had stiffed him and was refusing to come to work. He wanted to talk to the owner or manager as much as I did. He gave me a number, I called it, I got voicemail for a person who didn't match the name I wanted, but left a message anyway. I left yet another note at the front desk, a really long note. The note from the night before, which the owner would have read if he'd ever showed up, was still sitting there. I had them both photocopied for my references. I am not anywhere near done with this situation.
Having gotten absolutely zero communication from anyone in a position to do anything about the returned package, Funks and I said a big "F*** you" to the Days Inn of Wendover, and left town. On our way east we passed through the amazing salt flats one last time, and asked Funks to get a shot of the mountains in the distance that appear to float above the horizon. The heat and sightline weren't perfect for it, but you can see a bit of the edges lifted off the horizon in this photo. On the proper day they look like they're levitating. The Donner party must have freaked out, even before they started eating each other.
Two hours later we pulled up to the gates of Ryder, ready to end one part of our trip and begin the final leg. In about an hour we had the bikes unloaded and all our gear repacked for mototravel. Funks tells me he's all ready to go. I fire up the S and pull around the truck to where he's parked, and he's gesturing wildly and not appearing happy.
"What" I ask.
"It won't start! The damn thing won't start! Just forget it!" and with that he jumps off the bike. We study it for a bit, not wanting to really start taking things off of it, having just packed, but there's not much choice. Not only will it not turn the starter over, but when he tries to kick start it he gets not even a pop. Sounds like the battery's out of commission. A mechanic walks up as we're studying it, and we ask for help. Moments later Andrew's got the bike at a service bay, and three mechanics are watching as he gets the bags and seat off. A loose negative cable is discovered on the battery. Jubilation is felt. Said cable is reconnected and the bike jumped. Ignition! Moments later, the bike dies again. Another jump gets it back to life, and I hold the throttle with the revs up while Funks puts everything back on the bike and gets ready to go. The plan is to ride to a nearby Autozone and get a replacement together.
I get on the BMW, get turned around, and hear one loud exclamation of profanity. I look up, and Funks is off the bike again. "It just died!" he says. "Forget it! I'll ride with you and we'll both get the battery!"
I said, "How 'bout I go get the battery and you stay here."
"Okay. I have to pull the bike out of the back service area anyway, because the gates close at 5pm they told me."
Some time later I return with the battery. It's not full of acid, so we have to screw around with that. Once we've got all the bubbles worked out of it, Andrew is finally able to install it. Before going any further with reassembly he says, "Lemme give it a quick try." Nothing. More profanity. He pulls the side cover off. I'm talking about tracing battery cables and bad connections and then I say, "Hey! How about the fuses!" "I was just gonna do that," he says. He's a step ahead of me.
After some poking and ogling of said fuses, it's determined that the all LOOK good, but how can you trust a fuse by it's appearance? Funks pulls the suspect, replaces it with a spare, hits the trigger, and VOOOM! We have fire!!! Elation is apparent as the seven o'clock hour begins to creep in on us and the sun starts looking low in the sky. The only thing we want to do is get the hell out of Salt Lake City.
Ten minutes later we're pulling on to the highway ramp and I'm looking in my rearview mirror and praying that I see Andrew keeping pace with me. I am more ready to go that I'd realized. Now that we're finally rolling, I really want to roll!
It's so late in the day that there's not a lot we can hope to accomplish in road miles, but we give it our best shot and roll clear of SLC, finding some beautiful mountains on I80 east of the city. As the sun sets we head down into valleys as we leave 80 and take US40 east toward Heber City. It gets cold and darker. As we roll into Heber an hour later Funks rolls up next to me and points to his gas tank. Time for a stop. As we're filling up we both agree that the town looks like a really nice place, and that we might be able to find real food here, as well as a place to stay. A fellow rider pulls up on a big cruiser and tells us that we can get both. Excellent.
About two miles down the road I see a small neon sign on the side of a building announcing "BBQ." It looks small, clean, and definitely non-chain. I pull in, motion Funks up next to me, and I ask if he approves. I get the nod, and we grab two parking spots right in front of the building on the street. We're ready to dine at Spin Cafe.
It's the thrill of our last culinary week. Real food! Not since the Boulder Mountain Lodge have we had anything near this good. Funks orders up brisket, and I go for chicken and mushroom pasta. They have flavored Cokes! I'll have one each of vanilla and raspberry. Dessert is gelato. Funks gets three scoops in three flavors that he can't even eat through halfway. I get a concoction of coconut gelato covered with pineapple and bananas that have been glazed in brown sugar with whipped cream topping. It's a gastronomic slaying of the highest order. I can die happy now.
See? Aint it grand??
If you're even in Heber City, stop in here:
As we got ready to go, I saw this sign across the street: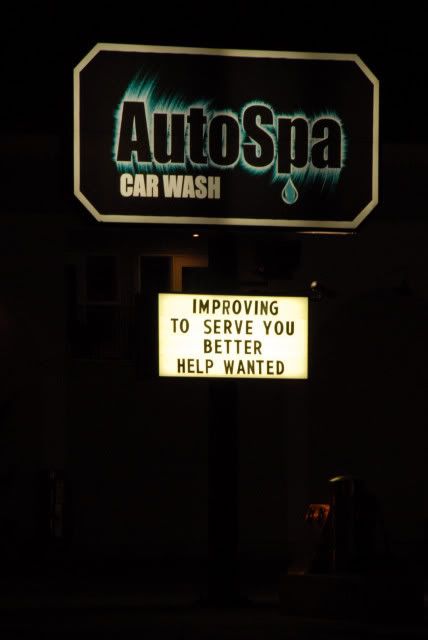 Better help wanted? Well, whatever it takes to improve, I guess.
We asked our wonderful waitress Jaimie where a good place to stay was, and she directed us down to the Holiday Inn. "It's new, and it's really nice," she said.
We passed some kind of quaint and possibly cheaper hotels on the way, and I was wondering why we should stay at a chain, but when I walked in this massive clean room, made up all nice and with desk staff that was a million times more helpful than a week's worth of Days Inn staff, I was convinced we'd done the right thing. As you can see, Funks himself is in full approval of our night's digs.
You'd think after all that Bonneville madness that it would be just some quick blogs about how many miles we're doing for the easy ride home. I guess I'd be pretty thrilled to simply make some mileage reports and leave it at that, but as you can see, our experiences are far from done. I have no clue how I feel about that, but I am looking forward to some reportedly lovely scenery along our ride tomorrow, as my boss promised to me when she gave me this route home.
Tomorrow, more miles, more...I have no idea, but there will be more.
Labels: Bonneville motorcycle trip