Bonneville Excursion 9/13/07 - Triple-digit day on the salt!!!!
Yes, yes, yes, it was a VERY good day on the salt for both of us! We both got all of our runs in. We took a bunch of pics today. I'll see what I can do without making this too long. I could go on for hours about it.
We got out on the salt pretty early, about 9am. It was quick work getting the bikes unloaded, and we were excited to have all day to make our runs without anything else on the schedule except racing. Funks decided I should go first, as he was going to work on the Honda while I made one or two of my runs. I suited up and we headed out.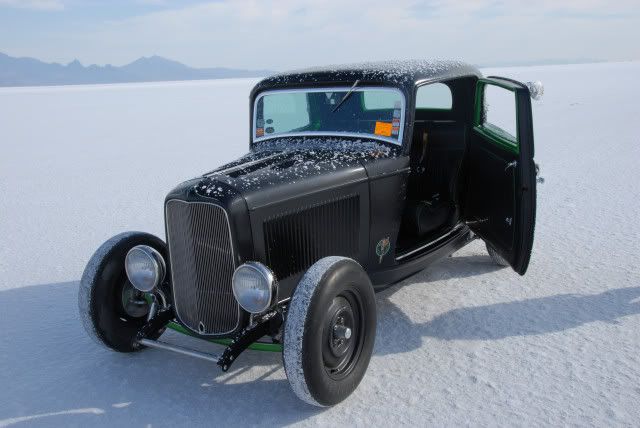 This fabulous Ford coupe was in line behind me. It had a black interior with apple green piping and a small block Chevy under the hood. Classic.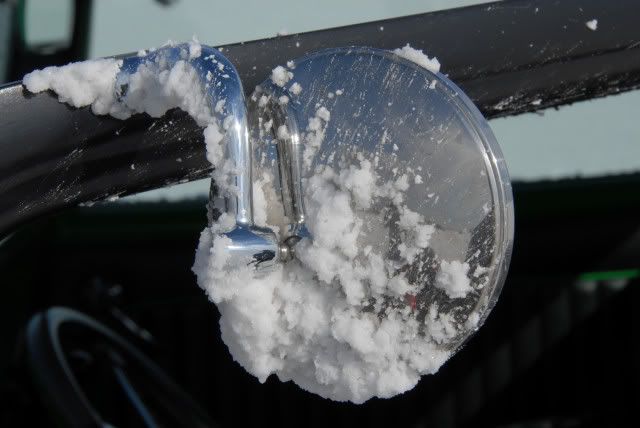 The Ford had no fenders, so it had salt everywhere, even all the way up on the rear view mirror at the top of the door. The dude just brought it out to run once or twice for kicks. Awesome.
I didn't have to wait in line for too long even though there were plenty of vehicles. Things were going smoothly.
I got a few words from Russ, the starter. Russ helps design the the booster rockets for the shuttle, so I knew I was in good hands.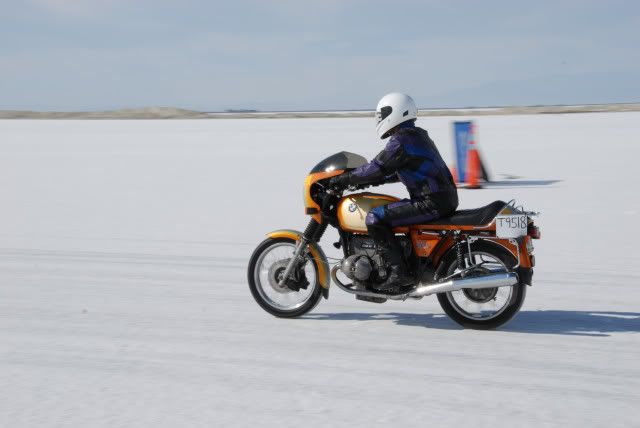 I'm outta there! This run netted me a nice little 102.56mph. Triple digits right off the bat! Good start to the day! For my second run I didn't do anything except try to get down behind the fairing farther and get it into top gear quicker. That got me 104.73mph. Nice improvement. I went back to the start line again intending to ask about taping up my headlight for a little reduced wind drag. As I talked with a racer about my idea, another racer standing nearby said, "Hey, I got some tape right here. Want it?" Sweet. Minutes later Attilla (that was his name, honest) had helped me get the light taped up and I was ready for my third run of the day. I got back in line, hung on the grips, and tripped the clocks at 106.91mph! More speed!
I had one more thought for improvement on the bike before my final run of the meet (130 Club entrants are allowed five runs for the meet). I went back to the trailer and upped my tire pressure from about 35psi to 40psi. Less drag from the wheels on the salt improves your speed. Cars often run around 50psi for street tires that usually run around 40psi. After that little tweak, it was back to the starting line.
I'm ready! Give me the all-clear!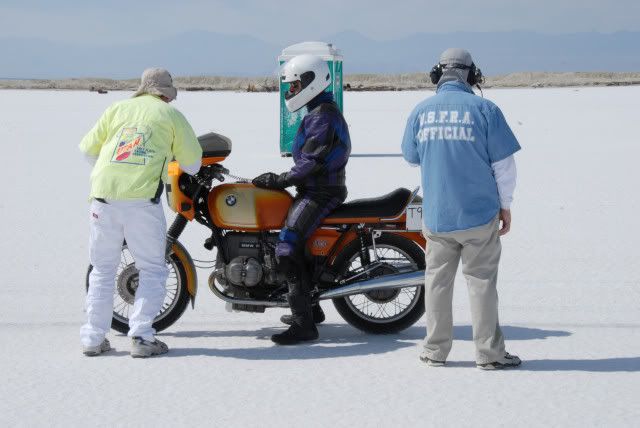 The starters check off my run sticker for the last time and radio to make sure the course is clear for me.
It's go time, baby! Let's make some speed!
It's a very odd sensation to travel down that mile. For the first half mile you feel like you're going really fast, accelerating really quickly. Around the half mile you stop picking up speed so rapidly, but you cross over to the point where you start making real numbers. Suddenly, going 90mph doesn't seem like that big a deal, and you become really aware that you're halfway done and you're going really fast, but not as fast as you want to go! There are only seconds left, but an eternity to think about what is and isn't happening. I was lying flat on the gas tank, peering out from behind the windshield of the fairing and praying for just a little bit more speed. I could see the tach needle bouncing around somewhere near six grand, and I just begged it to get a move on towards the right even more. The speedometer needle slowly crept up...100...105...106. I knew the speedo read too high, so I wasn't exactly sure how fast I was going. I just knew it had to hit 110 or so for me to really be turning a good number. COME ON! GO! 110! I got 110! KEEP GOING!!! 111...112...113?
And then I whipped past the big flags with the giant number "1" printed on them. I gently rolled off the throttle. That felt really good. That was a good run. Was I faster? The speedo looked faster, but did I really do it? I rolled back to the timing trailer to get my slip. The official came walking out.
"How'd I do?"
"Not bad. One-oh-eight plus a little."
BINGO!!!
The exact number for that run was 108.63399mph. In the beginning I had been hoping for anything over a hundred, anything that would make up for my crappy runs at Maxton. Now I had run four runs over one hundred, and the last one was nothing at all to complain about. It was smack in the middle of the 105-110 guess my mechanic, Guenther, had guessed I would do. Rock!!!
A good day for me and the S on the salt.
Ecstatic after my run, I headed back to the trailer to get lunch and then help Andrew get his bike ready.
Andrew pulled his muffler off, which removes the rear mount for the exhaust. I twisted up some safety wire to hold up the rear of the header. In doing so, one of the wires snapped, and the free end whipped back and hit me in the palm of my hand. I didn't even feel it so much as realize that my hand was suddenly really wet. Yeah, we totally bleed for this effort. Andrew removed the air filter from the filter box.
Somehow I finally got the header safety wired on without losing any fingers or my eyesight or what have you.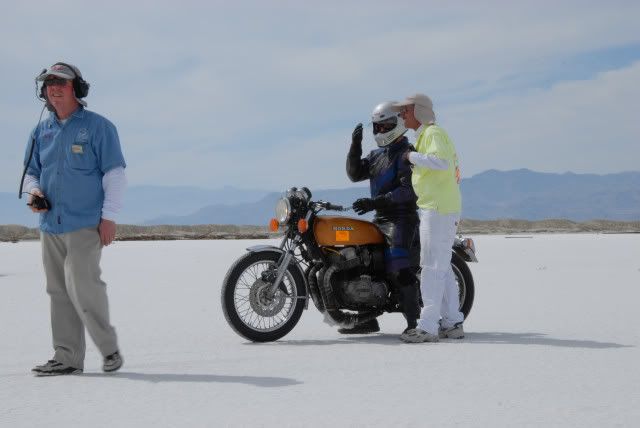 Funks collects another checkmark on his run sticker and gets a few thoughts on the salt conditions for the day.
Cleared for takeoff, Andrew nails the throttle on the mighty Honda 750. He snagged a 104mph ticket in this one.
He sounded really awesome going away with the open exhaust. Bystanders commented, "sounds real strong, sounds good." He
After the exhaust effort, Andrew jetted down the carbs again and ran it the same on his last two runs.
He's outta here! His runs got him a 107.6mph and a 107.4mph, an excellent showing for the day, and improvement over his times at Maxton, which says a lot considering you lose traction on the salt compared to the concrete of Maxton. On the concrete, Andrew would be running probably over 110mph.
Once we got back from our runs, Andrew got the suit off, and we headed over to Nick's trailer. Nick runs several Triumphs and was the one who loaned us the suit. I was surprised to see they were packing up already. "Had a fire," he said. "Nitromethane. The emergency guy didn't believe I was on fire when he got there, 'cause he couldn't see the flames. I said, 'Well, I'm burnin' back there by my legs, so soon as you get to puttin' 'em out that'd be good.'"
Nick was a riot, in such good humor the whole time. They brought four bikes, blew up three of them, and he caught on fire, yet he was still was crackin' me up and giving me a hard time when Andrew snapped this shot. He was the happiest burned guy I've ever met. There are awesome people out here on the salt.
A quick pic of our bikes with our run stickers on them before we cleaned them up. While we were cleaning them up, a guy pitted a couple spots down from us pulled up in his late model Dodge Dakota. I walked over and asked how he did. He'd gone out for a bit to get his son, who lives in downtown Indianapolis, from the nearby airport. He'd left his long pants at the hotel, and couldn't race without them, which left him sitting there unable to test out some hand-fabbed cardboard and duct tape aerodynamic mods he'd worked on all morning. I said, "Ask around if you can borrow some - or take mine!" He was out of there five minutes later in my borrowed motorcycle overpants. Like the guy told me at Maxton, "Just pass it on the next time someone needs help.
As we were getting cleaned up, I walked over to the pits next to us and snapped this Ford roadster.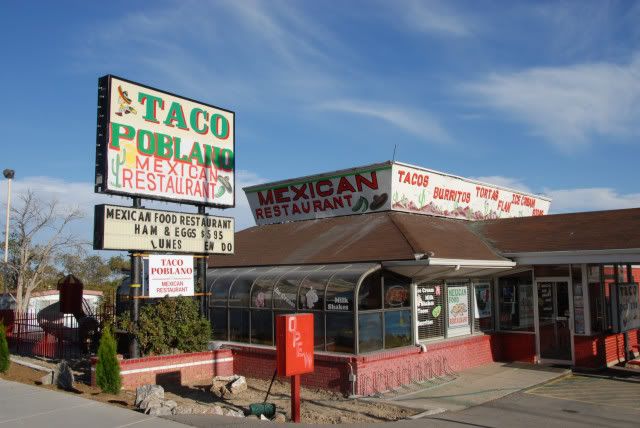 Feeling all victorious and elated and whatnot after our day of high speeds, Funks and I adjourned to the eating establishment which has brought us such good fortune: Taco Pablano. It's also one of the only quick places to get a bit that's not either fast food or a casino.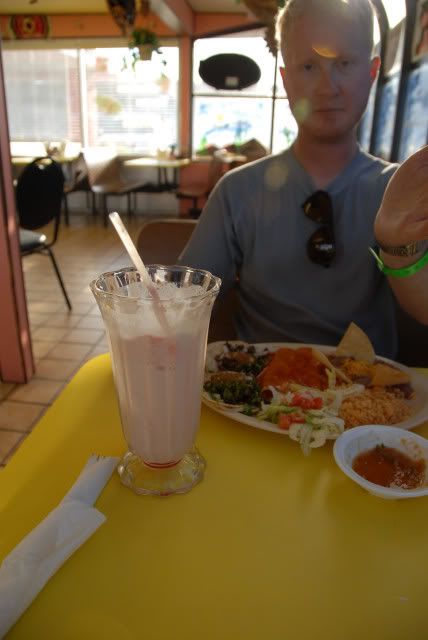 Funks approves of his meal and my massive strawberry shake. Perhaps next time I'll ask for the medium instead of the large! It nearly killed me.
Tomorrow should be big fun. With no runs of our own to worry about, we're just going to wander around, visit, and take tons of pictures. We're gonna have a chance to check out the REALLY fast stuff!!!
Labels: Bonneville motorcycle trip