Bonneville Excurstion 9/12/07 - "The salt is yours."
Today on the salt began at 9am with the driver's meeting above. Since this meeting was the chance to get everyone's attention all at once, I grabbed one of the officials and asked if an announcement could be made about our need for a suit. He led me to someone else, who asked if I could write it down. I scrambled for a pen and paper from a nearby vendor and go the info down and turned over to the announcer in time for the start of the meeting.
After all other announcements had been made they told the crowd about our situation, and there was a collective groan from the racers. They all felt our pain. Moments later I was grabbed by half a dozen people offering to loan a suit. I got first names and racing team names and locations and offered many thanks. I would hunt down the offers after the 130 Club meeting.
After the 130 Club meeting I went looking for those who'd offered to loan us a suit. Along the way I passed the Vesco streamliner which is a historic piece so machinery, having set many records over the years on the salt.
I also passed this stainless steel trailer that had been converted int a racing trailer into which the car could be loaded from the back. Andrew and I agreed it was way cool.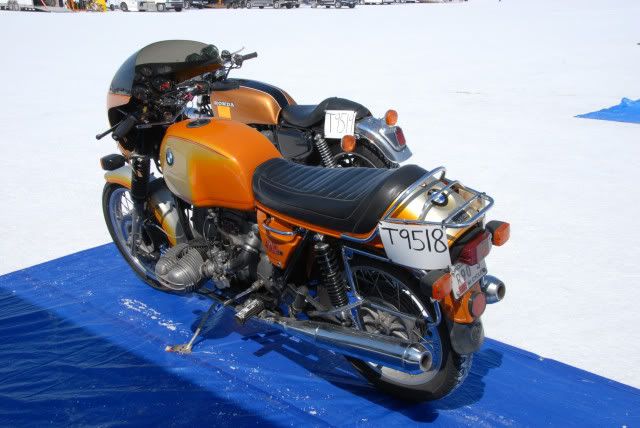 I couldn't find the one particular guy who said he could loan us a suit all week. I figured he was out racing, so I set to work preparing the bike. Here I've got he rear view mirror removed, the sticker on the front fairing (not seen in this photo), and the number plate lettered and attached.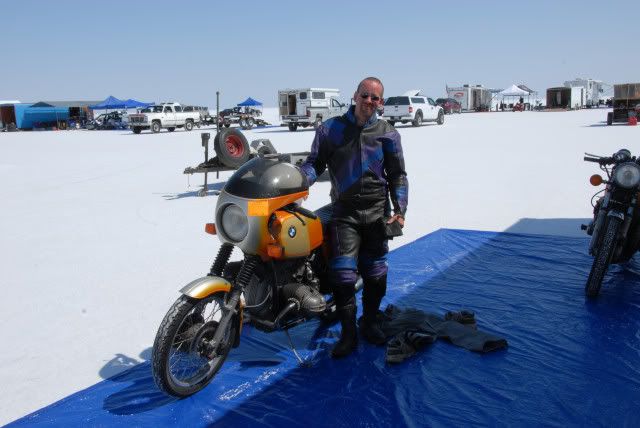 It took a LOT of walking, and then more help from a guy who rode by on his bicycle and said, "That guy you want just got back from racing," and then we FINALLY had a loaner set of leathers for the weekend! My joy was hard to imagine. Andrew let me go first, and I had them on in minutes.
Here I'm waiting in line for my turn at the salt. The weather is actually pretty mild this time of year, so I didn't get too uncomfortably hot. We did bring water to the line, which we both finished off while waiting.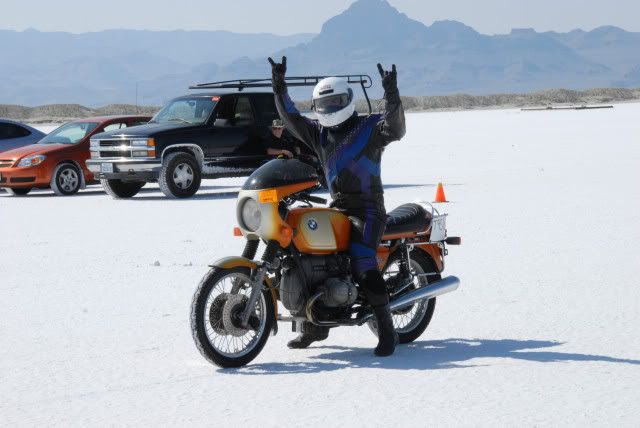 The line's moving! I'm almost up! I am SO ready for this! This is it!
I get some last minute instructions, and then the starter tells me what I've been waiting to hear for days now: "The salt is yours."
And I'm away!
It was a fantastic experience. I had to keep my speed to 70mph to calibrate my speedo for the first run, but it was still very cool. The salt seemed very smooth and not as slippery as I'd feared it would be. I reached 70mph before the half mile mark, so I'm sure that tomorrow I'll be able to really get some speed out of it. I'm hoping to get 110mph or thereabouts. It's pretty awesome to get out there and know that you can go as fast as you want! There's this great big expanse of white stretched out in front of you and you're able to, encouraged in fact, to go just as fast as you possibly can! Too much fun!
Andrew was up next.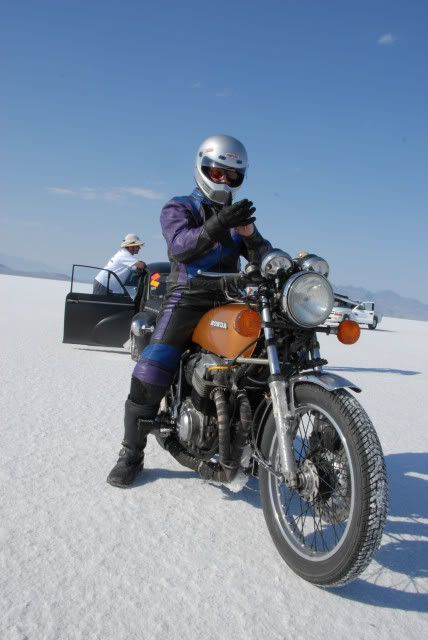 Funks gets his gear snugged up and ready to go.
Funks gets a little advice and last minute instructions.
And he's off!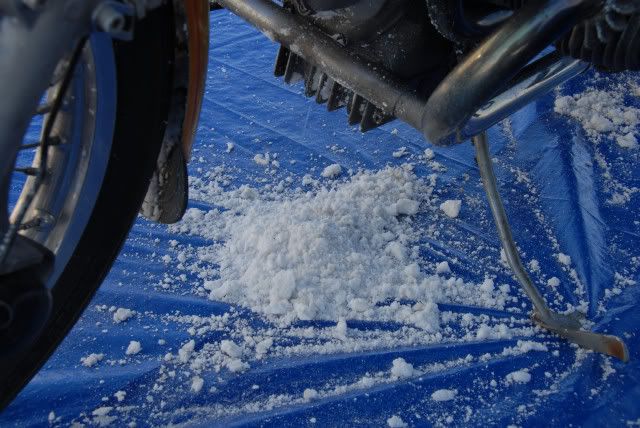 When you get back from even just one run, you tend to have a lot of salt stuck everywhere. I used a wrench to scrape this little mound off of the oil pan. That doesn't account for the rest of the bike. It's pretty messy, and you don't want to leave it on, because, well, it's salt!
Funks got to make one more run before they closed the lanes for the evening at 5pm. I've got four runs left. Here's to hoping for some real speed tomorrow!
Labels: Bonneville motorcycle trip