Bonneville Excursion 9/14/07 - Fast times, good times - Part 1
We got all our runs done yesterday, so today we were in full-on relaxation mode. We just hung out, visited, looked at cars, and watched other folks race. I ended up with over 400 images on the Nikon. Here is but a taste of my day's excellence.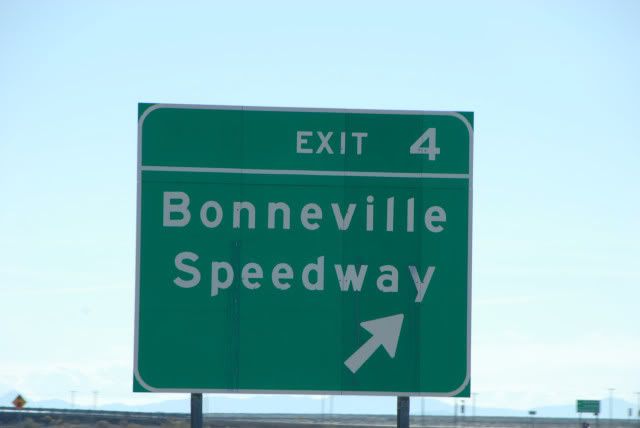 Driving in this morning. Best road sign in the world.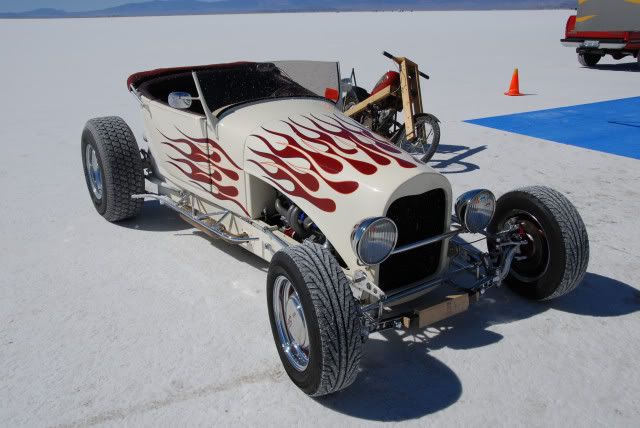 Very nice flamed Ford that I found out later was a push car for a racer!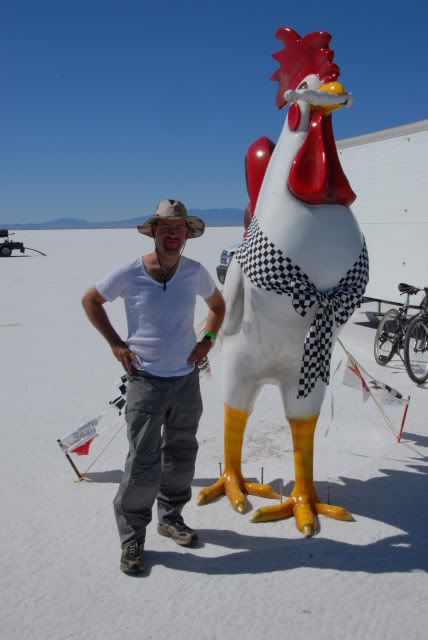 Me and Fred, the big chicken. (I think his name is Fred. He didn't say much.) He's the mascot of the salt. I think he used to have a job at a KFC before he was rescued and redone for salt duty.
Me and Don. Don ran the Dodge pickup in the background. Don's from Cinic and his boys both live in Indy. Great folks. Don loaned me a hammer and an air compressor. I loaned him my pants. Quick friendships form on the salt!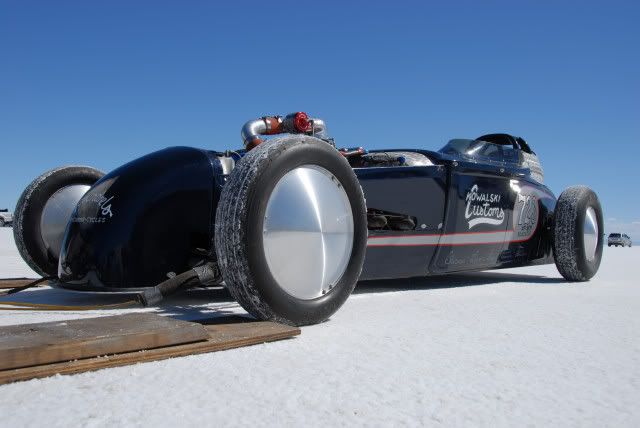 Superbad flathead Ford roadster.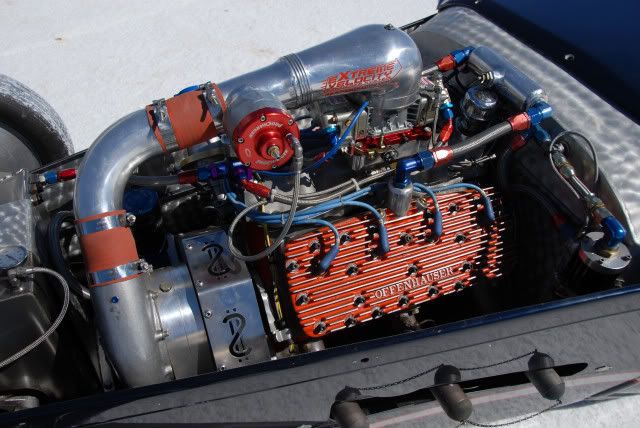 The same Ford's engine bay. Notice the amazingly awesome Paxton supercharger wedged in down there near the lower left corner of the shot. This thing puts out serious power.
...and serious power has a serious cost! The Ford's supercharger belt cover.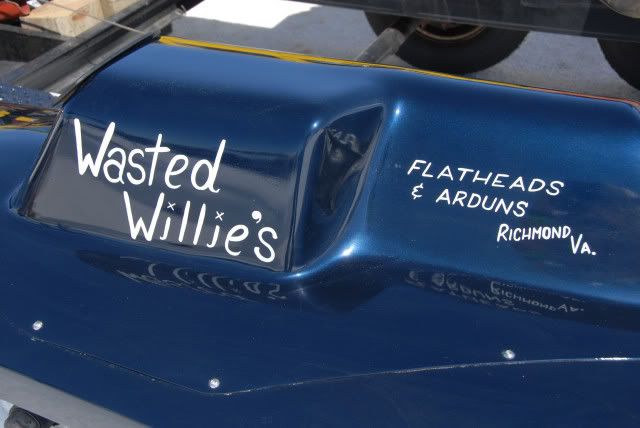 Willie may be wasted, but he puts together a great flathead.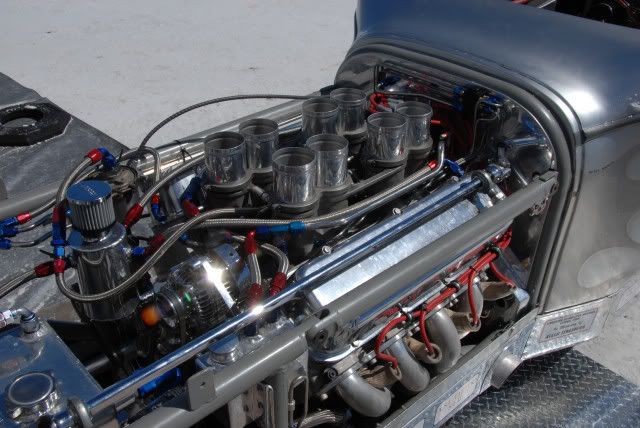 Hot Ford engine.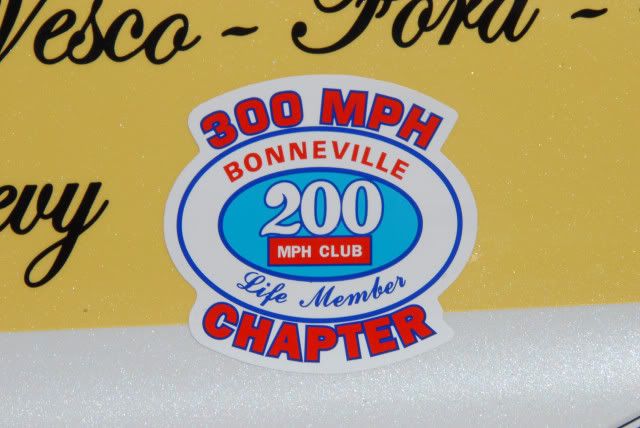 Sticker on the Vesco 444 Streamliner. I want one of these stickers on my car.
All ages are found at the salt. I can't tell who is in control here, but they were having fun.
Vesco 444 car suspension. Not your average hardware.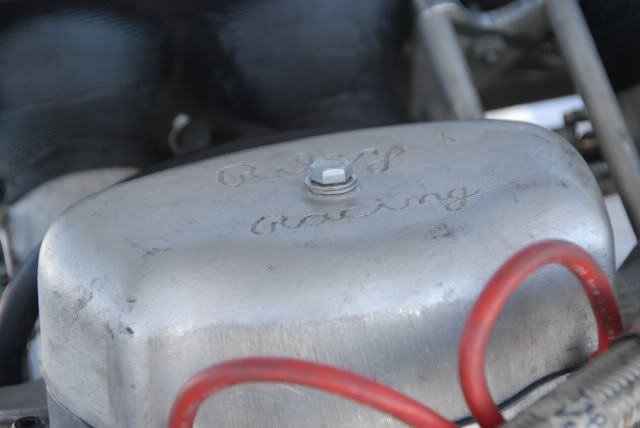 The Vesco car runs a Riley-equipped Ford four cylinder.
The team snaps the lid on the Vesco car in preparation for a run. They were going for the 203mph record, but had only run 194mph earlier in the day. For those who are wondering, yes, that's over 200mph out of a vintage Ford four cylinder engine from the 30s!
A Studebaker awaiting trailer loadup on the salt.
Funks at work making some magic.
Salt gets on everything out here, and I understand it was a dry meet this year, so it can be much worse. I was told "You'll grow three inches" walking around the pits. We were lucky, but it still sticks good.
The best way to see the pits.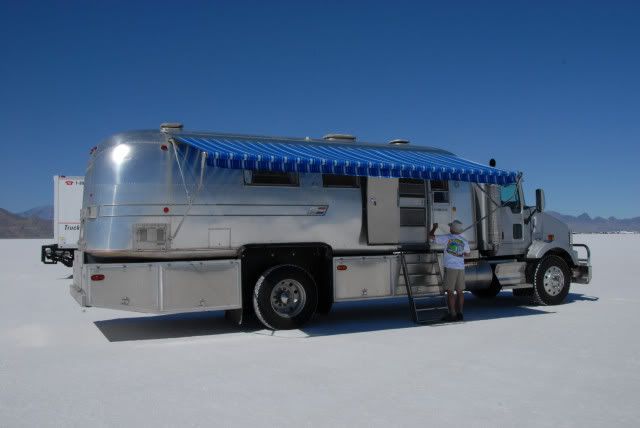 The best way to travel to a meet - an '07 Kenworth mated to a '68 Airstream trailer.
Jag exhaust. They have a sports car class. Lookit all them pipes!
The Jag waits for a chance at a record.
More to come...
Labels: Bonneville motorcycle trip