Bonneville Excursion 9/14/07 - Fast times, good times - Part 2
There were so many photos from today that I figured it would be best to split this up into two blog entries.
After walking around the pits and visiting a bit, Funks and I headed up to the starting line of what is called the Long Course, where all the cars run for record attempts, many achieving speeds well over one hundred mils an hour, and sometimes even two or three hundred.
An El Camino that has made history at the salt flats.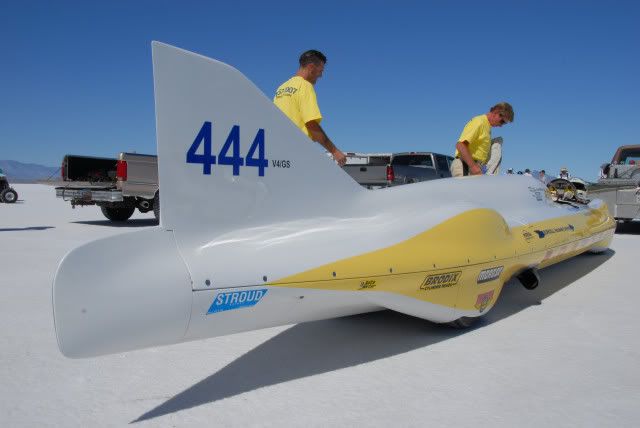 Vesco car 444 gets ready to make an attempt.
Jaws. Awesome paint job. This streamliner was powered by an extremely loud V8 that nearly deafened me when it fired up. I don't know how fast they went, but when it was gone it was gone!
The Vesco team prepares their driver. Due to the heat, they pour water down the neck of his suit to keep him cool during the run.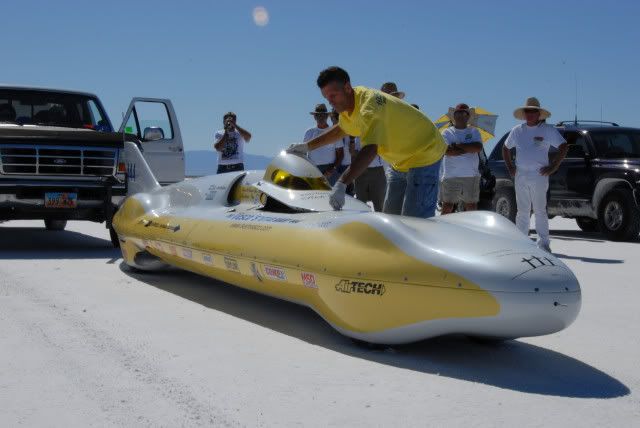 The driver is buttoned in.
Fired up and ready to run!!!
Push off! Even though these cars are extremely fast, they're often geared so low that they need a push start from a support vehicle to get up to a speed where they can really run properly.
Team Vesco disappears down the course. We all waited impatiently for the report on their attempt. The record was not to be set today. They ran 193mph on a 203mph record. Rest assured, they'll be back to try it again. This car has set numerous records over the years. Its tradition is long and proud.
An exhaust pipe exit ahead of the front wheel? Turbocharged! A big one, too, from the looks of the pipe diameter. This guy told me in the pits that he had qualified with a 220mph run, then broke the wastegate on the turbo and slowed down to 203mph. "I've got the record at 203, but I really wanted that 220." Didn't happen today. The run after this photo was another 203mph.
Oil can? Maybe, but I'm guessing it's modified, full of gas, and used to prime the fuel injectors on that bright orange Jag.
This guy was going for the record in Production X class - a screaming 90mph with an old flathead Plymouth six! Hoowee! (They've got everything here!)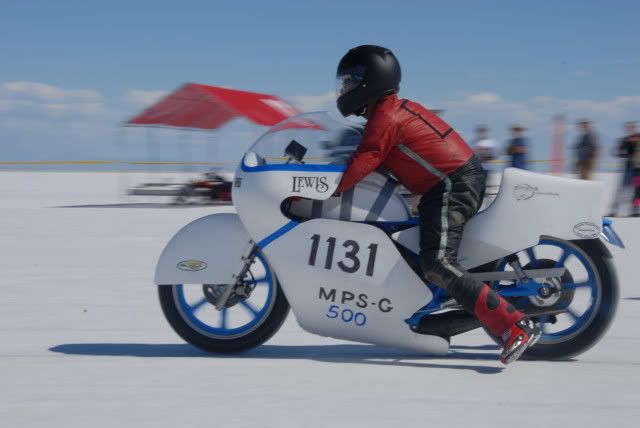 A cool-looking Suzuki twin.
A hot, stripped-down V-twin rocket.
Allow me to pay photographic homage to Monte, the start at the Long Course who also did the announcing at the driver's meeting that helped Funks and I get a loaner set of leathers. I shot these after thanking him for his help.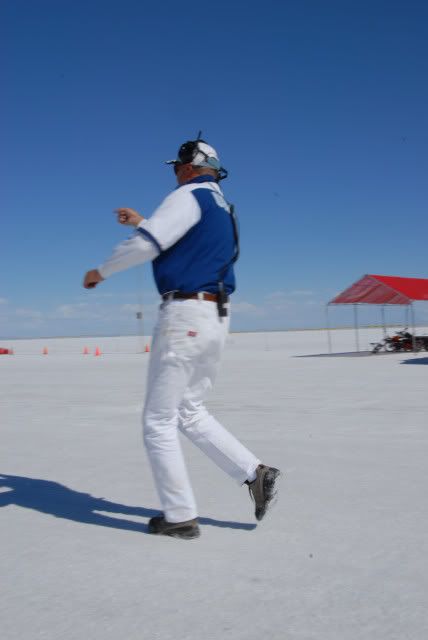 I love the "big go" sign. He sweeps his hand down the course as if to say, "Go get it!"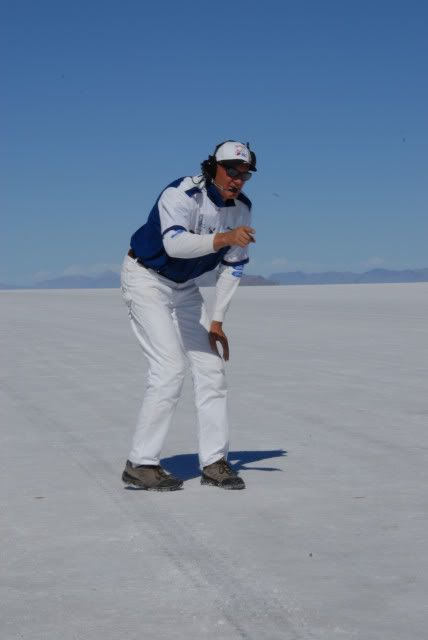 Signaling the driver. Time to hit it.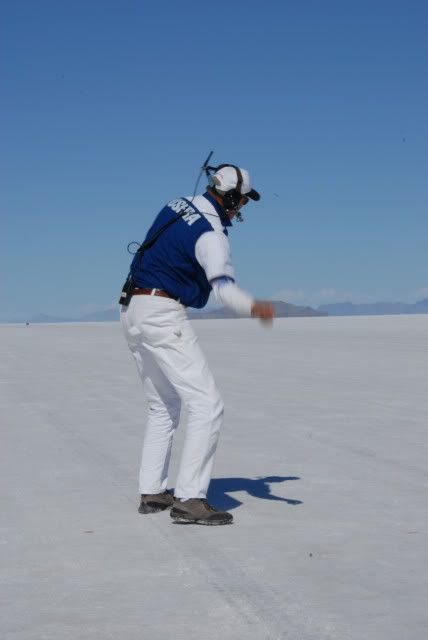 Hit it!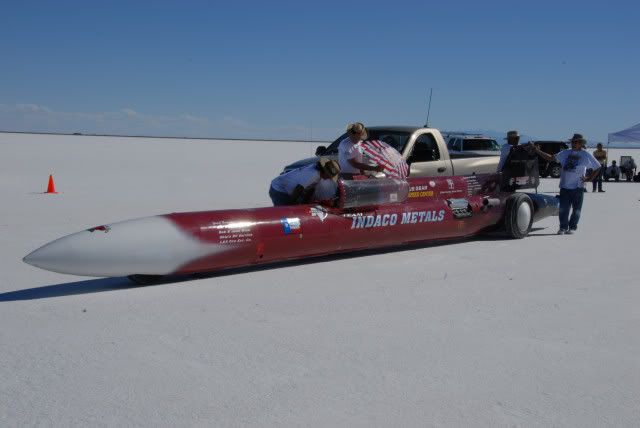 The Indaco Metals streamliner. These guys were staying at our hotel. We swapped stories with them in the parking lot in the evening.
Some of the Indaco crew hard at work in front of their flamed Ford.
This orange Ford roadster was waaay louder than I'd ever have guessed it to be. I was on the phone with my brother Ben when it fired up. "What was that?" he asked when the fuse was lit.
It was a heck of a day, so much to experience! Funks and I stopped at the End of the Road (end of the asphalt where the salt itself begins) before we got back onto the main road. We unloaded the bikes and had them washed from a nearby portable water source, plus had the rental truck washed as well. Funks suggested we snap a shot out there on the salt before we took off, as we hadn't done a tripod shot with both of us in it for quite some time. Excellent idea. You can see the mountains behind us and the vast expanse of salt all around. You can also see us grinning like idiots, because this was definitely one of the most outstanding vacations either of us had ever had!
Tomorrow morning we check out of the hotel (that has STILL not managed to set things right about that stupid suit issue!), and start heading east for the first time in two weeks. We understandably have mixed feelings about returning. We're tired, but not all that excited to go back to work! It'll be nice to get up in the morning and not have to figure out which road to take next, however.
I've got a few more days of riding left before Indiana is on the horizon. I'll keep you all posted.
Labels: Bonneville motorcycle trip