Bonneville Excursion 9/18/07 - "I`ve got no place left to go!"
Home again, home again! We did it. WOOHOOOOOOOOOOO!!!!! As of about 7pm this evening, Funks and I planted our feet back on the asphalt of my driveway and declared ourselves cooler than about anyone else in the world we could think of at that moment.
Enough about our coolness for now, however. I'm sure you're all dying to hear just what exactly transpired today between Columbia, Missouri and Indianapolis, Indiana.
First off, it was the momentous final morning packing of the bikes exercise.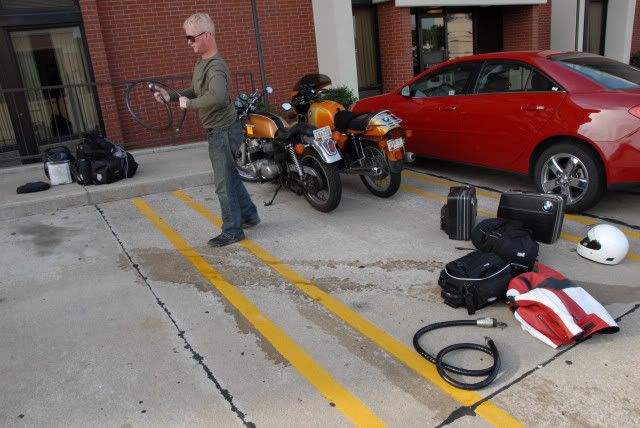 This was one exercise we were not going to miss.
Clearly you can see the joy in my face at the knowledge that I wasn't going to have to lug four bags and a helmet down halls and elevators and crashing through doorways yet again tomorrow.
Breakfast was ignored for the time being, with the desire to be on the road far stronger than the desire to eat. We put about forty or fifty miles on the bikes before we stopped to gas up at a little spot off the highway. The station was the only thing to stop for immediately off the highway at that point. It was surrounded by fields of soybeans, a sight I hadn't seen in weeks, and it suddenly looked beautiful and heartwarmingly familiar to me.
After we gassed up and ate some breakfast bars, I asked Andrew to pull his bike over off the nearby frontage road and grabbed a pic of our machines with that gorgeous midwestern background setting them off. I was struck at the same time at the fall colors just beginning to creep in around me. We'd been gone a long time. This was all green nearly three weeks ago.
The rest of the day was spent largely leaned over the gas tank watching road signs and looking for the first ones that indicated towns in Indiana. We stopped for lunch around noon and got to witness a family (or some aggregate thereof) attempt to drive a car across the country without any water in the radiator against the warnings of a very well-meaning passerby.
Following lunch I wanted to get some oil, which led us on a five-store goose chase. Apparently, while you can buy REAL gasoline (93 octane as opposed to only 91) in the Midwest, they don't sell 20W50 motor oil in gas stations. I finally scored some at an Ace Hardware, by which time I was ready to write letters to every major oil company on the planet.
After lunch we realized "only one more gas stop between here and home." Here it is, the final stop, Exit 136 off of I-70. I have no clue where that is, but it's sorta near Terre Haute in a kinda sorta way. There was a '62 Pontiac Tempest four door parked there. That and the fact that the place was clean were about the only notable things about the station. When we were done with photos, I made a flourish with my hands and pointed east. As I finished Andrew said, "Let's go home." It had been a long time coming.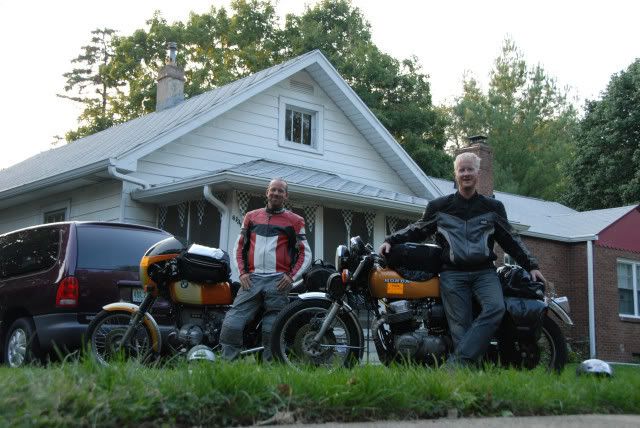 7:15pm, September 18th, 2007. The Bonneville Excursion has been a screaming success. Since the earliest moments of its inception at a Steak & Shake at the corner of Westfield and 86th Street, through all the plans, Maxton Mile racing, day trips, purchases, setbacks, repairs, hotels, a tire, a battery, rain, freezing temps, heat, cuts, bruises, scrapes, sunburn, salt, meteor dust, petrified trees, gasoline, duct tape, triumphs, annoyances, worries, and some very crappy roadside fast food - through ALL of this and so much more we've had what can only be described as an incredibly awesomely fabulously fantastically outstandingly wonderfully INCREDIBLY GREAT TIME!!!!!
...and we were hungry. I had no food at my house. There was only one choice, back to where this whole thing started: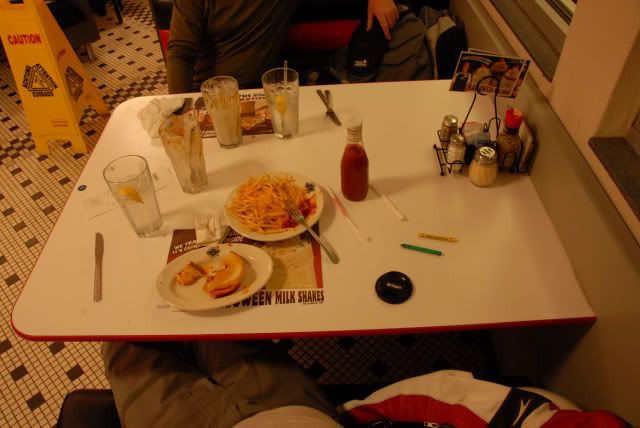 When we were finished eating Andrew said, "I'm ready to go, unless you need to take another picture or something." "Of what?" I asked. "Oh, I don't know," "Just like this?" I asked, raising the camera. I laughed at the result. "We're not in the picture! Just the empty plates!" Andrew looked at it. "Perfect," he said. "We're done."
So we are. Thanks to everyone who read along. It's been a fantastic journey that i wouldn't trade a moment of for anything. I can't believe we pulled it off! What next???
Well, now that I ask, I would like to get a record on the books, or maybe get the BMW into the 130 Club. Huh...maybe next year we could-
Labels: Bonneville motorcycle trip